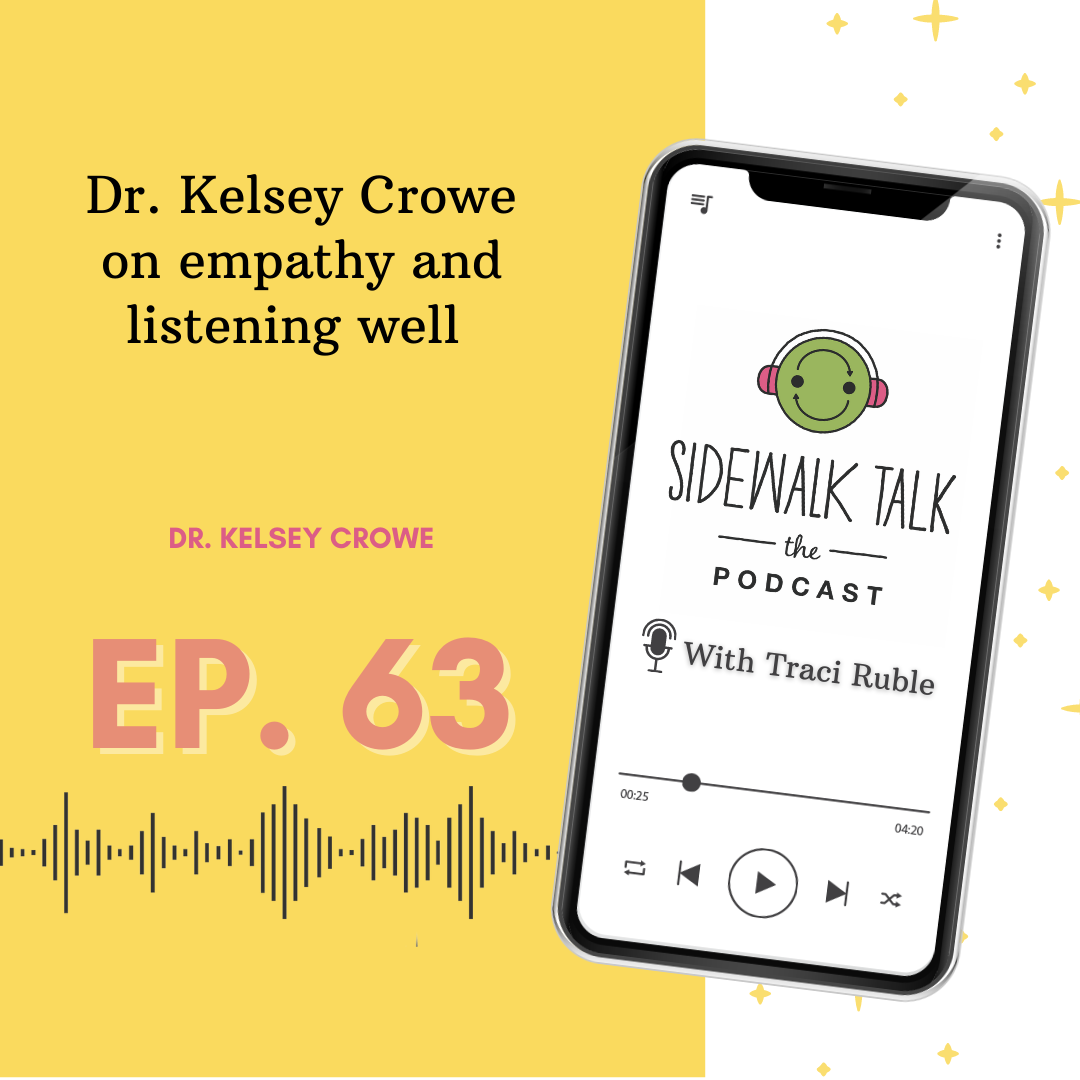 Listening well isn't an easy skill for most of us. We like to talk, and in a culture that values productivity and solutions above all else, simply listening can often feel like we're not being useful. Dr. Kelsey Crowe, author of There is No Good Card for This, thinks differently. 
An empathy coach and founder of the nonprofit, Help Each Other Out, Kelsey knows a thing or two about listening—making it her mission in life to teach us how to empathize in an increasingly self-centered world. On this episode of The Sidewalk Talk podcast, Traci and Kelsey laugh and listen together, talking about all things empathy, connection, and attention. 
Throughout their conversation, Kelsey shares with us her three basic rules on empathy for idiots, how we can ask for the attention we need, and the value of gestures. Especially during a season where we're dealing with more uncertainty than ever, empathy is so important—not just for others, but also for ourselves. If you're looking for a practical guide to becoming a better listener, and better person and friend in the process, look no further than this dynamic and empathetic conversation between Traci and Kelsey. 
Episode Milestones
[00:07] Intro 
[02:24] Meet Kelsey 
[06:51] What Kelsey discovered about empathy 
[09:45] Kelsey's rules on empathy for idiots everywhere 
[15:09] Why it's hard for us to not be useful 
[22:23] How we ask for the attention we need 
[26:23] The value of gestures 
[31:25] What Kelsey's working on next 
[34:39] Sidewalk Talk in Germany and during COVID-19 
[37:17] Listening during conflict 
[40:26] How can we show up differently for others during COVID 
[44:55] Kelsey's wish for you 
[46:40] Outro 
Resources Mentioned
There is No Good Card for This: What to say and do when life is scary, awful, and unfair to people you love
Standout Quotes from the Episode
"The value of hearing someone else, truly hearing, cannot be underestimated."
—Kelsey Crowe 
"If we're thinking about how we're going to respond, we're not truly taking in what somebody's feeling."
—Kelsey Crowe 
"When people are talking, they don't only want to be validated. Sometimes it's actually an opportunity for them to understand and build their experience in the course of telling it. And providing people the space to do that is tremendous."
—Kelsey Crowe 
"We find that listening is unproductive, that it's not useful, when it's so useful. So our definition of what's useful has to expand to include presence and attention. Attention is useful."
—Kelsey Crowe 
"We need to figure out more and more ways to display emotional intelligence that's beyond just how we talk to people."
—Kelsey Crowe 
Connect:
Find | Sidewalk Talk Podcast
On Instagram: @sidewalktalkorg
On Twitter: @sidewalktalkorg
Find | Traci Ruble
On Instagram: @TraciRubleMFT
On Twitter: @TraciRubleMFT
On Facebook: @TraciRubleMFT