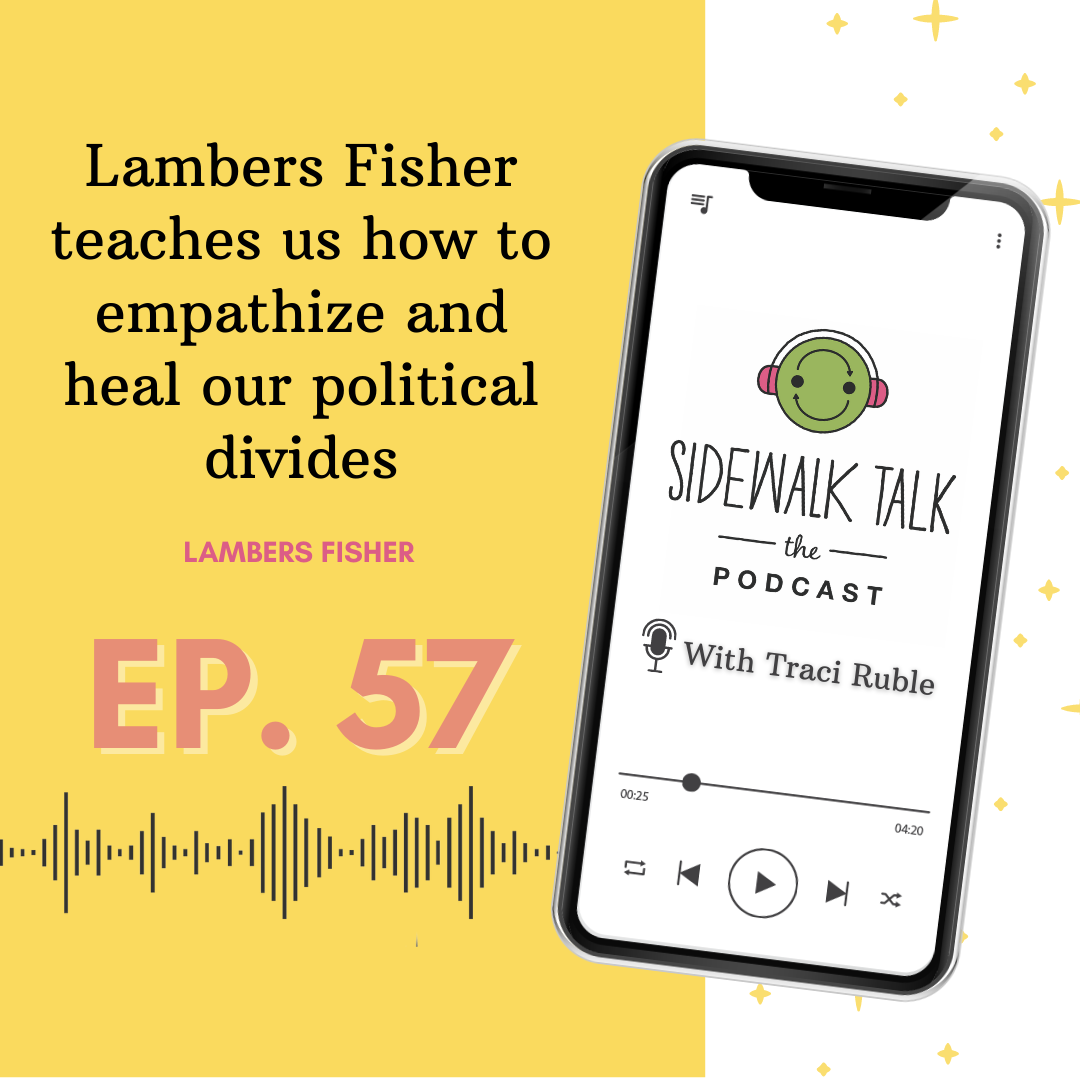 Our world is more diverse than ever before, which is a good thing, but we're also growing increasingly more divided within that diversity of thought, background, belief, and life experience. How do we become bridge-builders in a world that touts our differences as reasons to hate the other? Therapist and speaker, Lambers Fisher, has a few ideas. 
On this episode of The Sidewalk Talk podcast, Traci sits down with Lambers to talk about empathy and how we bridge the gaps that seek to divide us. Throughout their conversation, Lambers and Traci hit on some hot-button topics, including how to own our own feelings and stances on an issue while still making space for someone to disagree with us, knowing our capacity for being a bridge-builder, and their thoughts on how to get past the divides caused and amplified by the most recent presidential election. 
Through it all, Lambers emphasized the expansion of empathy as his "why," and the answer to so many of the connection problems plaguing our country and society. Looking for a prominent voice seeking to build up relationships, even when we disagree, rather than tear them down? Don't miss this episode of The Sidewalk Talk podcast. 
Episode Milestones
[00:07] Intro 
[00:59] Meet Lambers 
[06:04] Expressing our feelings of difference 
[11:15] Owning our feelings and maintaining our stance while empathizing with the other 
[18:02] Lambers' why: expanding empathy 
[19:11] Getting past our divides from the presidential election 
[31:57] Listening to understand the other side and share vulnerability 
[35:57] Knowing when and how to be a bridge-builder 
[42:39] Lambers' word for you 
[45:13] Outro 
Resources Mentioned
Standout Quotes from the Episode
"Our differences don't have to be divides. We can say, 'yes, we're different, but we also have similarities.'"
—Lambers Fisher 
"We won't know everything all the time, but if we're open to learning along the way then other people will see that receptivity and say, 'okay, maybe there's something to that.'"
—Lambers Fisher 
"My big 'why' is to hopefully create relationship standards that are a lot harder to break. I want there to be so much empathy, that it's contagious."
—Lambers Fisher 
"You can't discount the legitimacy of someone's feelings just because they expressed it in a way you don't prefer. We have to give safe place for that."
—Lambers Fisher 
"I believe that we all have the capacity to empathize in some way. Is it as much as you want or need in the moment? I don't know. But you won't know until you try."
—Lambers Fisher 
"Relationship-building matters. It plants seeds that impact every relationship they'll have."
—Lambers Fisher 
Connect:
Find | Sidewalk Talk Podcast
On Instagram: @sidewalktalkorg
On Twitter: @sidewalktalkorg
Find | Traci Ruble
On Instagram: @TraciRubleMFT
On Twitter: @TraciRubleMFT
On Facebook: @TraciRubleMFT