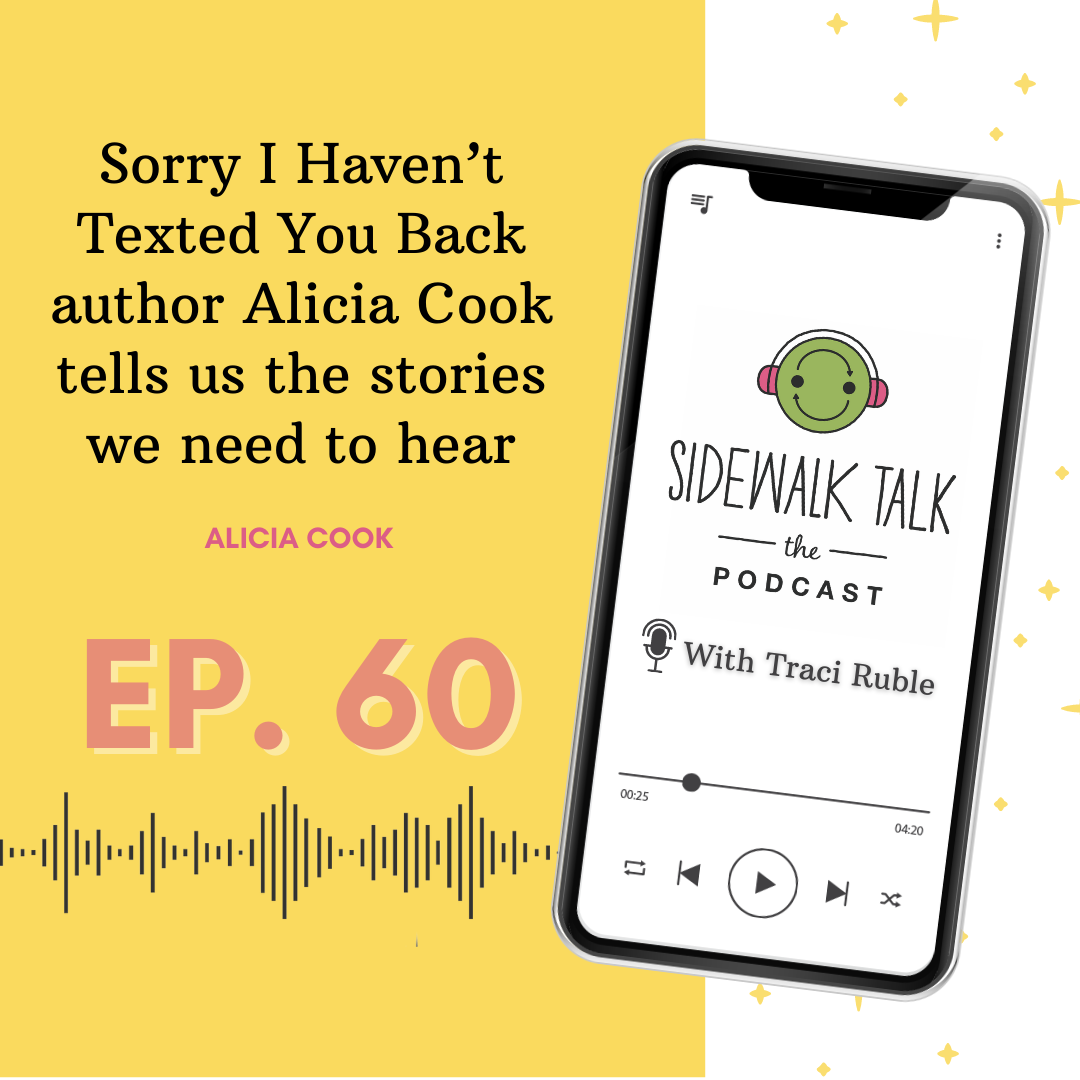 Drug addiction and the loneliness and mental health struggles that often precede it are highly talked about issues facing our country right now, but that wasn't always the case. Back in 2006, when author Alicia Cook's cousin, Jess, died of an overdose, death from drug addiction was often swept under the rug. While it's become much more of a frontline policy talking point in the years since, people like Alicia are still determined, maybe now more than ever after the year we've had, to tell the stories of families plagued by the dual issues of drug addiction and mental health. 
On this episode of The Sidewalk Talk podcast, Traci sits down with Alicia, author of the wildly beloved book of poems, Sorry I Haven't Texted You Back, to discuss the biggest lessons Alicia's learned about drug addiction and loss throughout her journey, the intention behind her book, and the policy changes around drug addiction and mental health both women hope to see happen in the near future. 
Alicia's journey of becoming a voice to this voiceless population of people affected by drug addiction really started when her cousin Jess overdosed at the age of 19. Alicia takes a few minutes to honor Jess during this conversation, sharing the other stories that have touched her the most in the process. Traci and Alicia's conversation concludes with Alicia's mission to give voice to the loneliness of our generation, and her word for you: everything is temporary, sometimes we just have to wait for the sun to come up on a new day. This is a vitally important conversation, don't miss it. 
Episode Milestones
[00:07] Intro 
[03:02] Meet Alicia 
[06:50] Honoring Alicia's cousin, Jess Cook  
[11:33] The biggest lessons Alicia has learned on her journey 
[14:56] The stories that have touched Alicia the most 
[20:04] Alicia's intention for Sorry I Haven't Texted You Back 
[26:55] How Alicia has fun amidst writing about a lot of heavy stuff 
[29:46] Giving voice to loneliness 
[34:35] Policy changes around drug addiction and mental health 
[41:09] Alicia's self-care routine 
[45:26] Alicia's word and poem for you
[48:12] Outro 
Resources Mentioned
Sorry I Haven't Texted You Back
Stuff I've Been Feeling Lately
Standout Quotes from the Episode
"There wasn't a voice for these families, and I inevitably became that voice."
—Alicia Cook 
"It's always so scary to put something so vulnerable and personal out there into the world. But what I've learned is, it's necessary."
—Alicia Cook 
"Dismantling the stigma—the number one weapon we have to do this is our storytelling."
—Alicia Cook  
"Advocates are born the minute someone they love dies."
—Alicia Cook
"Our mental health, whether we're in a good state or a bad state, touches so many parts of our lives, and it's impossible to compartmentalize, even though the world tells us we need to compartmentalize."
—Alicia Cook 
"When someone wants to recover, and wants to begin that journey, there needs to be a bed for them. They need help immediately—they can't wait another day."
—Alicia Cook  
"Even if you feel like things can't get any worse, that things won't get better in your life, you need to just hold on, because everything is temporary. Sometimes you just have to wait for the sun to rise and a better day to begin."
—Alicia Cook 
Connect:
Find | Sidewalk Talk Podcast
On Instagram: @sidewalktalkorg
On Twitter: @sidewalktalkorg
Find | Traci Ruble
On Instagram: @TraciRubleMFT
On Twitter: @TraciRubleMFT
On Facebook: @TraciRubleMFT