In a world that loves to talk, do, achieve, promote, preach, sell....what does it mean to connect, be, and listen. A podcast about #humanconnection #mentalhealth #socialhealth #empathy #belonging and #loneliness. And always thinking about justice and inclusion in all things. Join us. And share far and wide. Or start your own chapter of Sidewalk Talk in your community. www.sidewalk-talk.org
Episodes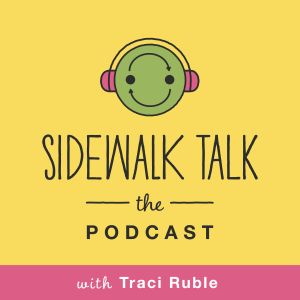 Friday Sep 22, 2023
Friday Sep 22, 2023
In this enlightening episode of The Sidewalk Talk podcast, your host Traci Ruble engages in a thought-provoking conversation with Dr. Eric Fitzmedrud, a prominent couple's therapist specializing in male sexuality. Their discussion delves into the complex world of male sexuality, consent, and the significance of emotional intelligence within relationships.
Traci expresses her deep admiration for Dr. Fitz's work and the unique lens through which he views male sexuality, emphasizing his dedication to issues related to consent and patriarchy.
One of the highlights of the episode is the exploration of Dr. Fitz's groundbreaking book published this week, "The Better Man: A Guide to Consent, Stronger Relationships, and Hotter Sex." Traci feels so strongly about the potential of this book to radically alter sex from a pressure tug-of-war between partners to something magical.
Dr. Fitz underscores the importance of men reconnecting with their tender hearts and nurturing authentic relationships. He argues that this is key to unlocking their true power and satisfaction.
The conversation takes an intriguing turn as they discuss the potential conflict between tenderness and sexiness. Dr. Fitz illuminates how embracing tenderness can create safety within relationships and enhance intense sexual experiences.
Episode Timeline
[00:09] Intro 

[0:58] Meet Dr. Eric Fitzmedrud aka "Dr. Fitz"

[

7:33

] Men's power comes from their tenderheartedness

[9:04] Different erotic styles. 

[11:37] Consent leads to more pleasure

[18:08] Gender essentialism and what transmen can teach all men about sexual pleasure.

[23:51] How sexual shame shows up.

[32:04] How to liberate men from patriarchy?

[37:51] Dr. Fitz's message to Sidewalk Talk listeners

[39:50] Outro
Resources Mentioned
The Better Man: A Guide to Consent, Stronger Relationships, and Hotter Sex (Book)
Standout Quotes
"...our love, our capacity to connect, our capacity to be in genuine, authentic relationship, is where our deepest power comes from - men or people of any gender." (Dr. Fitz)

"Consent culture can take place in the therapist's office or the boardroom or anywhere we meet and connect with each other." (Dr. Fitz)

"We get caught in these conflicting messages with very few messages that confirm for us the innate essence of goodness in us, that our sexuality is good, that our desire and capacity for love is real and needed in the world." (Dr. Fitz)

"...a penis being hard ejaculating the way that you think it ought to or somebody's told you it ought to, isn't essential to being a man. It isn't essential to being a good lover, because that trans man over there can be a good lover too." (Dr. Fitz)

"...if we don't attend to the flowing water of sexuality, it's still flowing. And if we don't attend to where it's going, it will continue filling up whatever reservoir we've bottled it up into until it will overflow our boundaries and it will feel out of control for us." (Dr. Fitz)
Find | Sidewalk Talk 
On Instagram: @sidewalktalkorg
On Twitter: @sidewalktalkorg
Find | Traci Ruble
On Instagram: @TraciRubleMFT
On Twitter: @TraciRubleMFT
On Facebook: @TraciRubleMFT
Find | Dr. Eric Fitzmedrud
On Instagram: @drericfitz
On Facebook: @drericfitz
On TikTok: @drericfitz
On LinkedIn: @drericfitz
On Twitter: @drericfitz