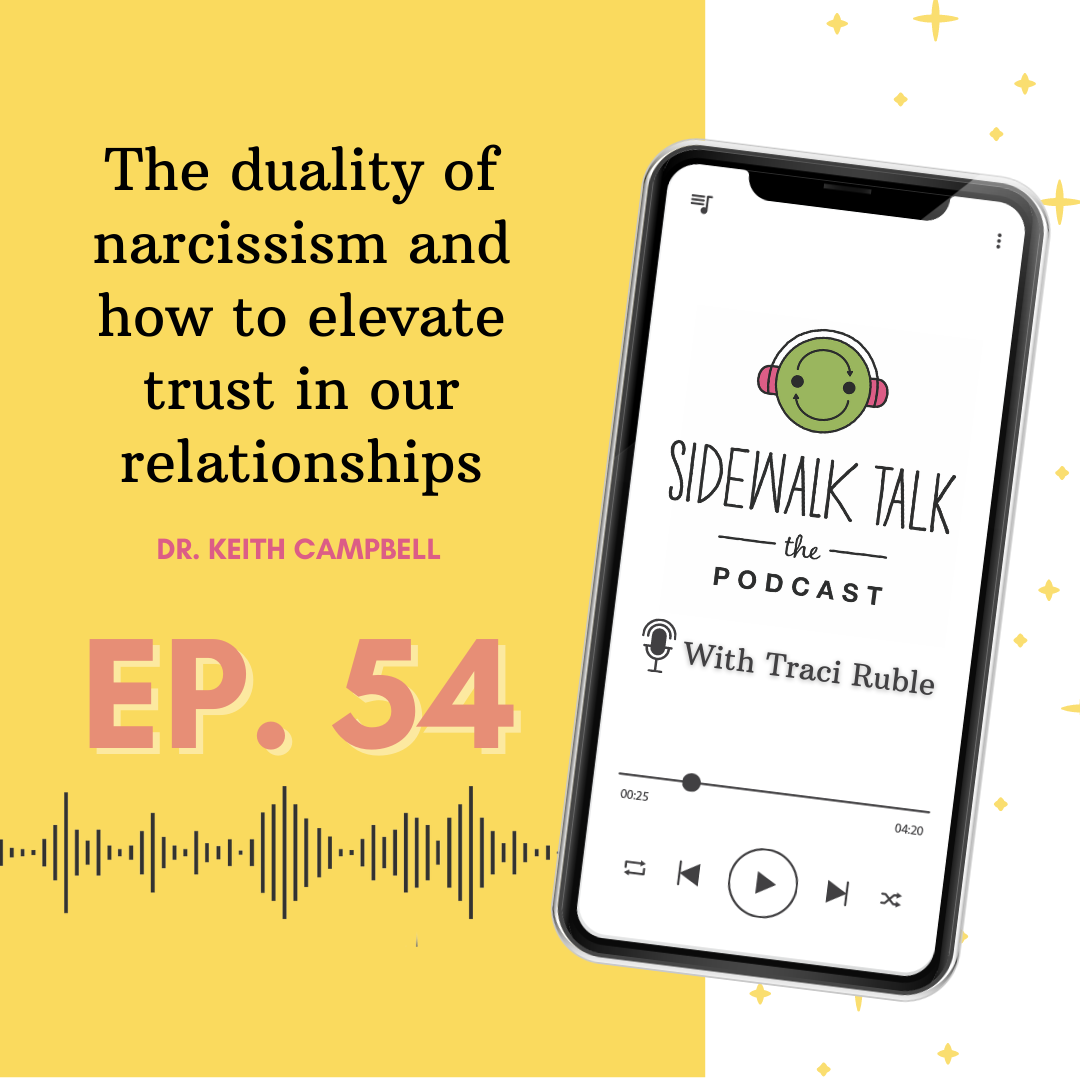 Over the last few years, narcissism, specifically narcissism in our leadership, has become top of mind for many Americans. As trust in our institutions has waned, narcissism has skyrocketed. On this episode of The Sidewalk Talk podcast, Traci sits down with Dr. Keith Campbell, a scientist and author who specializes in none other than the study of narcissism and its effects on our relationships and the larger culture around us. 
Traci and Keith's conversation begins with why Keith chose to study narcissism and how this area of thought has evolved over the years since he began his research. In the interim Keith's written a number of books on the subject, including his newest: The New Science of Narcissism that he hopes will help readers identify the narcissistic tendencies in their own lives. 
The podcast wraps up with Keith and Traci's examination of narcissism in leadership, its rise over the last four years of President Trump's term, and a look at narcissism in capitalism. Finally, Keith leaves us with a word about daring to take ourselves a little less seriously in the name of genuine connection and building trust. We hope you come away from this conversation with a better understanding of narcissism and its presence in our lives and culture. 
Episode Milestones
[00:07] Intro 
[00:59] Meet Keith 
[03:53] Why Keith chose to study narcissism 
[05:26] What's "new" in narcissism 
[09:40] Why we're all a little narcissistic 
[11:24] Keith's hope for readers of The New Science of Narcissism 
[13:28] Narcissism in leadership 
[19:01] Cultural/societal inputs that affect narcissism 
[23:55] Does capitalism encourage narcissism? 
[30:13] How to elevate trust in relationships 
[35:47] Keith's word for you 
[38:27] Outro 
Resources Mentioned
Standout Quotes from the Episode
"We have these two forms of narcissism out there, and the mistake people are making is that these are the same people, when the truth is, they're really two different groups of people."
—Dr. Keith Campbell 
"We've had lots of very narcissistic presidents. The narcissistic leaders get a lot done, for good or ill. They also get impeached more."
—Dr. Keith Campbell 
"Ego can help you sometimes, but it can do such interpersonal damage."
—Dr. Keith Campbell 
"You can harness your own ego to make the world better."
—Dr. Keith Campbell 
"It's important, if you want to connect with people, to take yourself a little less seriously."
—Dr. Keith Campbell 
Connect:
Find | Sidewalk Talk Podcast
On Instagram: @sidewalktalkorg
On Twitter: @sidewalktalkorg
Find | Traci Ruble
On Instagram: @TraciRubleMFT
On Twitter: @TraciRubleMFT
On Facebook: @TraciRubleMFT