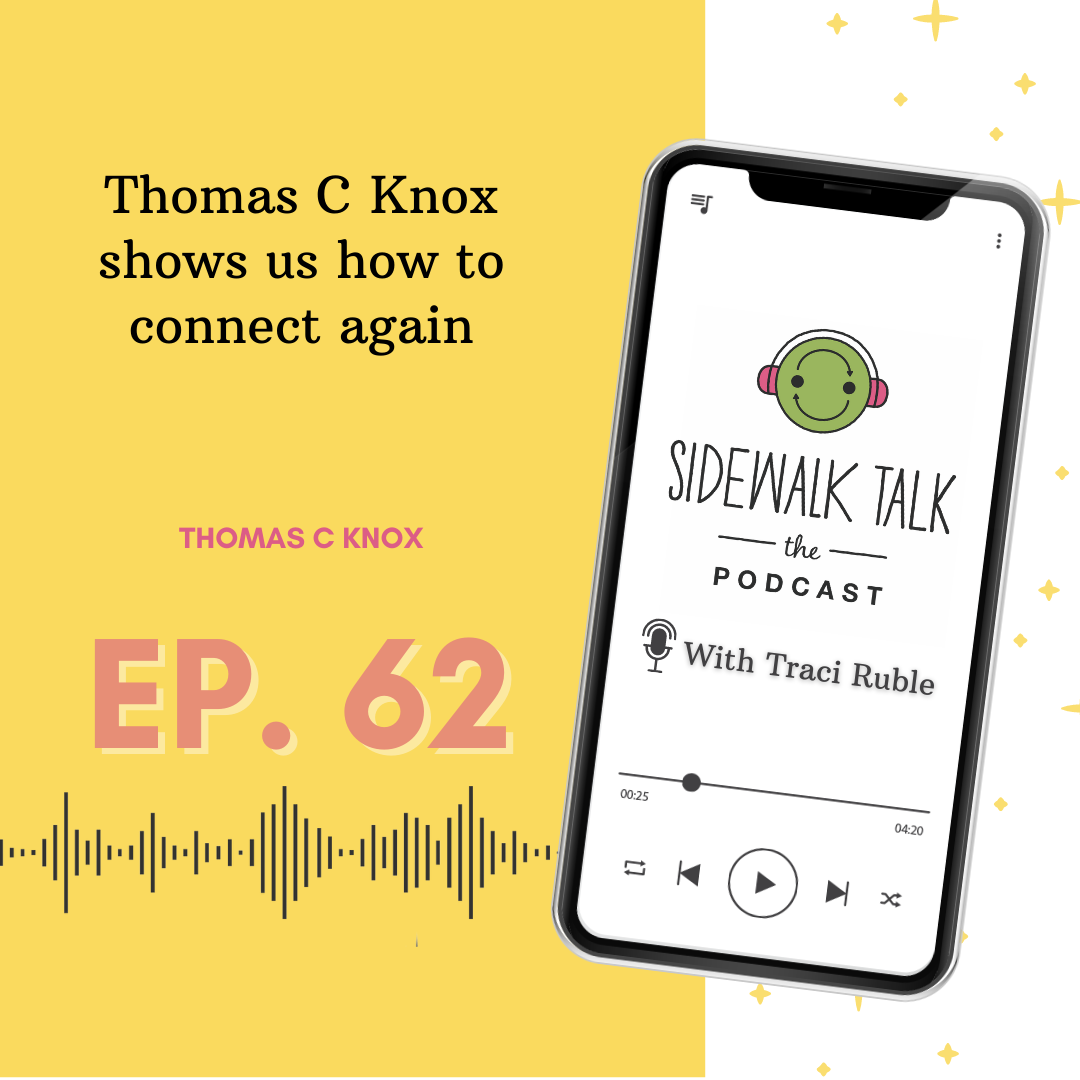 Thomas C Knox is a connector like no other. The founder of multiple organizations all focused on fostering relationships and space for vulnerability between people, this guy is the real deal. On this episode of The Sidewalk Talk podcast, Traci sits down with Thomas, her good friend and part of the Sidewalk Talk team, to discuss how to stay connected during quarantine and relating to others even when it seems like you have nothing in common. 
Thomas is the face behind Date While you Wait—a company he started in response to the stories of friends and family who told him their commute was one of the worst parts of their day. In response, Thomas stepped in with a card table and a Connect Four set, inviting commuters on the New York City subway to sit down for a chat or just a game. With a personality that made space for vulnerability and connection look easy, Date While you Wait gained national attention, and is now being turned into a TV show. 
Traci and Thomas talk about how connection has changed during the COVID-19 quarantine, the willingness to step out of our comfort zones to still be there for people even if we can't be close physically, and why finding something you can relate to with another person is the first step to realizing maybe we're not so different after all. Don't miss this important episode on how connecting with others matters now more than ever. 
Episode Milestones
[00:07] Intro 
[02:37] Meet Thomas 
[11:40] Thomas' relationship with his mom and how it shaped him 
[14:21] Thomas' Mother's Day surprise 
[19:30] How Thomas takes care of himself 
[22:57] Honoring Thomas' friend, Lloyd, who passed away 
[27:27] Relating with others and being vulnerable 
[33:46] Thomas' organizations and what he's working on right now 
[36:50] How to connect during quarantine 
[40:29] Sidewalk Talk phone-banking 
[45:13] Mental Health Awareness month at Sidewalk Talk 
[47:14] Thomas' word for you  
[50:16] Outro 
Resources Mentioned
Standout Quotes from the Episode
"I just wanted to do something kind for moms. We're lucky to have them, and we wouldn't be here without our moms."
—Thomas C Knox 
"The best way to give back is to pay it forward—do it for somebody else. Put a smile on somebody else's face. That's something that really matters to me."
—Thomas C Knox 
"Everyone has something in them that someone else has, but we fight it. Once we identify what we have in common, it's easier for us to relate."
—Thomas C Knox 
"For us to be able to find ways to adapt and still listen to our community is something that is not easy, it can be a challenge. And I'm really proud to be a part of an organization that realizes that there are people that still need our support and still need to be listened to."
—Thomas C Knox 
"Show love, because we need it now more than ever."
—Thomas C Knox 
Connect:
Find | Sidewalk Talk Podcast
On Instagram: @sidewalktalkorg
On Twitter: @sidewalktalkorg
Find | Traci Ruble
On Instagram: @TraciRubleMFT
On Twitter: @TraciRubleMFT
On Facebook: @TraciRubleMFT