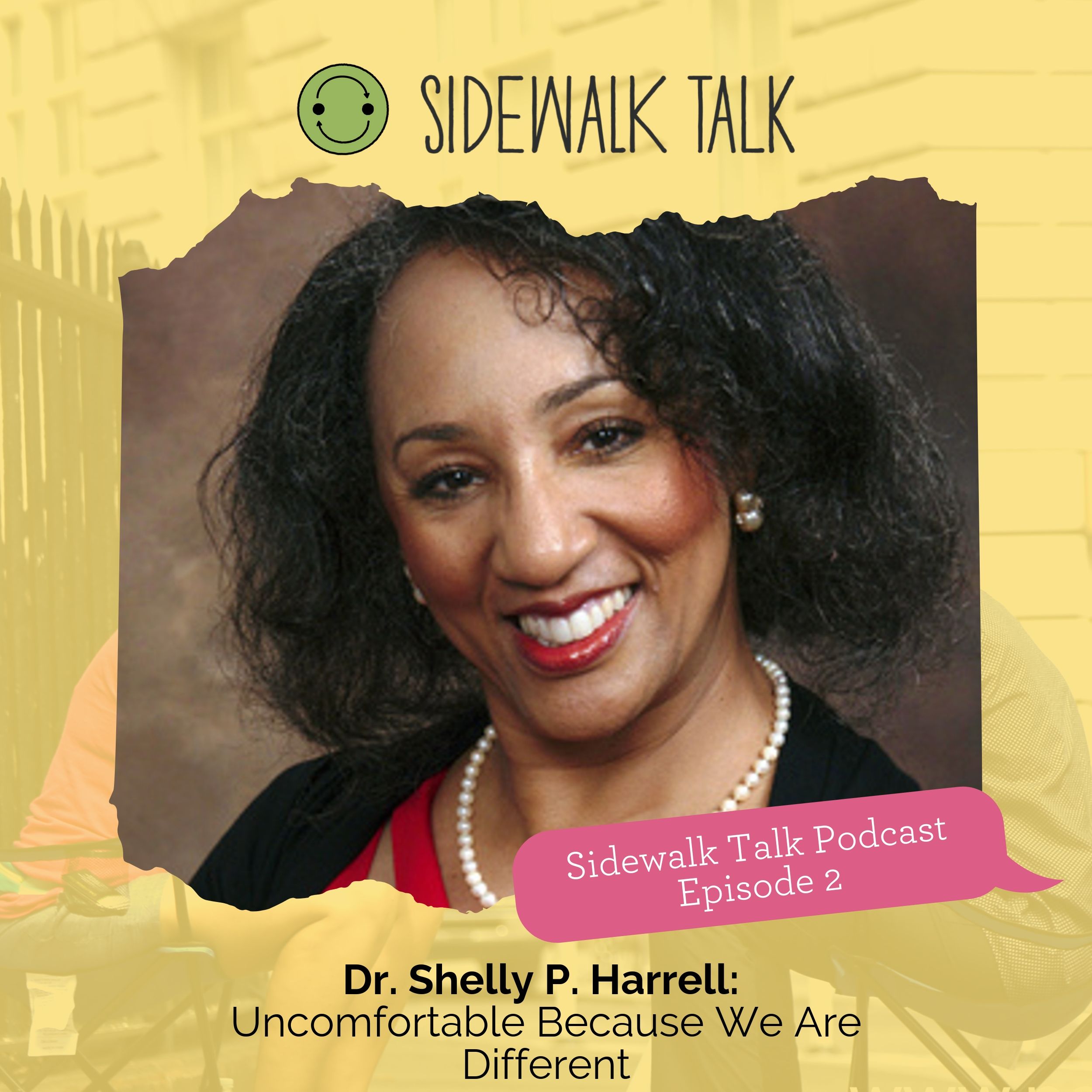 Podcast Note: This conversation was recorded in 2018.  We had some connection interruptions in a few spots.  Stick with it.  Good stuff here.
Standout Quotes From This Episode:
We struggle to hold the complexity of our sameness and our difference at the same time.
We all get anxious with difference but we must interrogate what we do with our anxiety in order to stay in connection.
It is important we sustain engagement when it gets uncomfortable and not bail on tough conversations.
Sidewalk Talk is an act of social justice.
Dr. Shelly Harrell is a Psychologist at Pepperdine University and a Couples Therapist.
She has built a meta transactional framework called PEaCE for interacting across differences and holding a larger context in mind. (Person-Environment-Culture - Emergence).
Dr. Harrell grew up in Detroit Michigan during the civil rights movement which shaped the lense she brings to the field of psychology. 
Anxiety About Difference Is Not A Sin
We all have a physiological response to faces that are racially different than our own.  It is not a sin that we have this reaction to difference.  The challenge is we tend not to know how to stay with our normal discomfort.
Holding Our Human Complexity is Hard Work
One of Dr. Harrell's favorite quotes by an anthropologist is "We are simultaneously like all others, like no others, and like some others." She shares how we struggle to hold that complexity at the same time.
Where Connection Goes Awry
To get away from our discomfort of difference we do one of the following:
Try to make everyone the same "we are one" or "I don't see color",
Dehumanize people who are different.
Pity or save which is a form of distancing and disconnection.
Get "overly fascinated" by this person's identity like they are an anthropology subject.
Dr. Harrell was excited by Sidewalk Talk and its potential to help us value interpersonal stories and show up and have a larger lense on the socio-political factors that may shape individual stories. For folks that are in the dominant culture, it would be easy to ignore individual stories. She hopes Sidewalk Talk grows beyond the sidewalk.
You can find out more about Dr. Harrell and her work at: https://www.shellyharrellphd.com