In a world that loves to talk, do, achieve, promote, preach, sell....what does it mean to connect, be, and listen. A podcast about #humanconnection #mentalhealth #socialhealth #empathy #belonging and #loneliness. And always thinking about justice and inclusion in all things. Join us. And share far and wide. Or start your own chapter of Sidewalk Talk in your community. www.sidewalk-talk.org
Episodes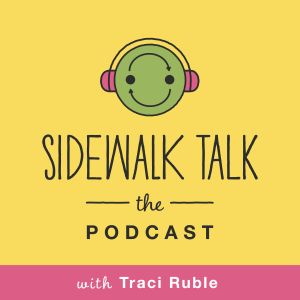 Friday Mar 03, 2023
Friday Mar 03, 2023
Thomas Lanthaler drops into hot spots of crisis all over the world and helps people make decisions to get through the chaos as peacefully as possible.
He is an experienced international crisis leader, experiential facilitator, and speaker with nearly two decades of experience across 30 countries. Thomas is the Founder and CEO of The Crisis Compass. This cross-sectoral consultancy acts as a partner and guide to companies genuinely interested in working with a crisis as a means for innovation. He advises leaders on all aspects of human-centered crisis management, confident decision-making, and making businesses crisis-ready using innovative tools to deal with uncertainty and challenging situations  - all centered around learning and communication to reframe crises into means of reinvention.
In this episode of the Sidewalk Talk podcast, you will get an inside view of the life of a humanitarian crisis manager and learn what crisis management even is.  Then you will have the chance to go on a deep and soulful journey with Thomas as he experienced a new way of thinking about community care and self-responsibility while training with aboriginal leaders in Australia. 
Episode Timeline
[00:09] Intro 

[0:58] Meet Thomas

[7:35] Becoming a crisis manager

[11:17] Fatherhood and how children are natural crisis managers

[13:32] What is crisis management

[17:21] When we label things a crisis

[25:15] What are your non-negotiables?

[31:40] Ritual and spirituality

[39:17] An earth-based practice of collectivism

[48:46] Closing

[49:40] Outro
Resources Mentioned
Navigating Beyond Crisis (Book)
Standout Quotes
"If you make a small difference with just one person, you've already made a difference." (Thomas)

"A crisis is not an event. A crisis is basically the aftermath of it." (Thomas)

"If it's not a life or death crisis, no one is dying in front of you, there's always time." (Thomas)

"I deserve the acceptance here, but I also have to give acceptance because others are different and they will see it differently." (Thomas)

"I'm talking about the awareness, what it does to me if I actually let go." (Thomas)

"We're trying to do what you just talked about, sitting there on the land, trying to practice collectivism." (Traci)
Connect
Find | Sidewalk Talk 
At sidewalk-talk.org
On Instagram: @sidewalktalkorg
On Twitter: @sidewalktalkorg
Find | Traci Ruble
At Traciruble.com
On Instagram: @TraciRubleMFT
On Facebook: @TraciRubleMFT
Find | Thomas Lahnthaler
At www.thecrisiscompass.com
On LinkedIn: @thomaslahnthaler
On Medium:@thomas-89340
Subscribe to this podcast
On Spotify
On YouTube