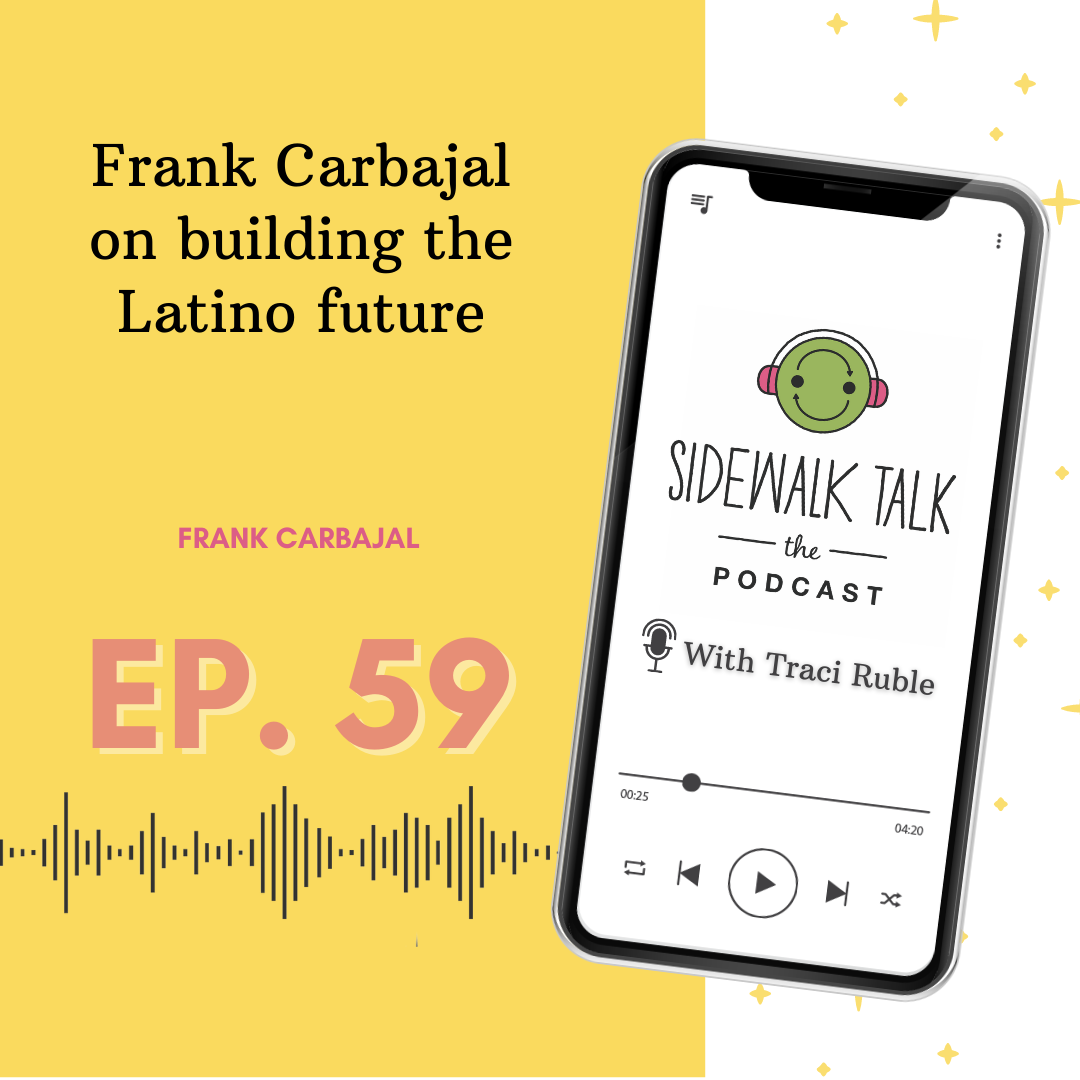 The Latino community is one that has felt the devastating effects of COVID-19 firsthand. As essential workers and part of a people group that values family and work ethic above all else, the pandemic has wracked this already marginalized minority. But author and founder of EsTiempo: "It's Time," Frank Carbajal, is here to tell us that the Latino future is still bright for these resilient individuals. 
On this episode of The Sidewalk Talk podcast, Traci talks with Frank about how his story of resiliency and perseverance is just one of many in the Latino community. The goal of Frank's work is to uplift as many Latino individuals as possible, and together he and Traci covered all sorts of topics in that vein, from how to combat the negative rhetoric often thrown at the Latino community to why loneliness affects Latinos in a particularly potent way. 
The episode concludes with Frank's heartfelt story of discovering the humanity of a man who had lost it all, and why he wants to encourage you, the Sidewalk Talk volunteer, to always remember that we all have a story to tell. Frank has some beautiful truths to share, don't miss this episode! 
Episode Milestones
[00:07] Intro 
[00:58] Meet Frank 
[08:00] Frank's story of resiliency  
[17:21] Building the Latino Future's impact 
[22:04] Combatting negative rhetoric against the Latino community 
[26:02] Community and loneliness in the Latino population 
[35:34] Frank's word for you
[41:58] Outro 
Resources Mentioned
Building the Latino Future: Success Stories for the Next Generation 
Standout Quotes from the Episode
"You can't fail when you're passionate. There's no failure in passion."
—Frank Carbajal 
"I think of my parents when I see the migrant, farm-working community. That's how my parents made their success. Words and framing matters."
—Frank Carbajal 
"With support, loneliness means that you're not alone. You'll be helped and you'll be listened to."
—Frank Carbajal 
"We all have a story to share and we all should be respectful of every human life."
—Frank Carbajal 
Connect:
Find | Sidewalk Talk Podcast
On Instagram: @sidewalktalkorg
On Twitter: @sidewalktalkorg
Find | Traci Ruble
On Instagram: @TraciRubleMFT
On Twitter: @TraciRubleMFT
On Facebook: @TraciRubleMFT Read the rest of this entry »